Trish signs for Topps Best of WWE
---
---


Over the last couple years, Topps has been including Trish Stratus in their WWE trading cards sets, but now they've upped the ante with their newest release: Best of WWE.

The new set, which has caught the attention of the WWE Universe since its official release early last week, has fans especially excited as this Topps series also includes the 7-time Women's champion's autograph.

"I was so excited when I was asked by Topps to sign for their upcoming trading card series," Trish said. "Being a collector myself, I know how awesome it is to pull the signature of one of your favorite stars from a pack of trading cards. I love that I get to add a little Stratusfaction to the boxes of Best of WWE trading cards!"

Trish is featured on two autographed cards. The first shows her solo, while the second pairs here with fellow WWE Hall of Fame 2013 inductee Mick Foley. Foley is not only featured, but was also heavily involved in creating the new set, writing the text for the base series.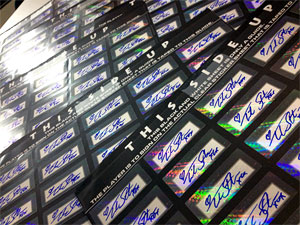 Earlier this year, we saw a tweet from Trish as she signed her autograph hundreds of times for these limited edition trading cards.

The last time Trish's signature was included in a Topps product was for the WWE Insider Hobby Edition trading cards in 2006. At the time, Trish was still a member of WWE's active roster. Now retired and a Hall of Fame inductee, Trish's autograph is sure to be a coveted item in the collecting world.

"I actually have every trading card I have ever been featured on. It's been fun over the years to collect everything that has been released all over the world," Trish said. "I can't wait to add these cards to my binder!"

Trish and her Stratuspherians also have two other cards to chase down to complete their search. As part of Topps Best of WWE's main set, which looks back at the last year of WWE highlights, Trish's induction into the WWE Hall of Fame and yoga session with Triple H from Raw 1000 are included.

"I have to say, this is a really neat concept by Topps and WWE," Trish says. "Giving the WWE Universe the opportunity to put together a collectible yearbook is very cool. I'm looking forward to seeing collectors showing off their complete sets online."

Topps Best of WWE is available now in hobby and retail stores, and also online at Topps.com.

RELATED STORIES
• New trading card set featuring Trish available now
• Exclusive: Trish Stratus goes to the mat with Topps WWE Heritage
• Card collectors get ready to add Trish to your collection
• Trish takes her place amongst Canada's greatest
« Prev story
Next story »