Trish named one of WWE's 'Greatest Superstars of the 21st Century'
---
---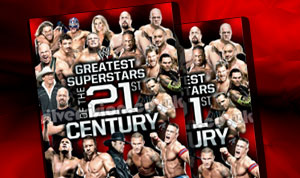 Trish Stratus is featured along with The Rock, Stone Cold Steve Austin, John Cena, Triple H and several other of WWE's biggest names in the upcoming DVD Greatest Superstars of the 21st Century. British WWE retailer Silvervision.co.uk recently unveiled the DVD cover which features Trish – Stratusfaction is definitely a guarantee with this very special DVD set.

"I'm honored to be with such good company," Trish told TrishStratus.com when hearing the news.

The compilation will be available in both 3-disc DVD and 2-disc Blu-ray release in stores on Tuesday, July 26.
« Prev story
Next story »