5/15 RAW Results: Trish's New Friend
---
---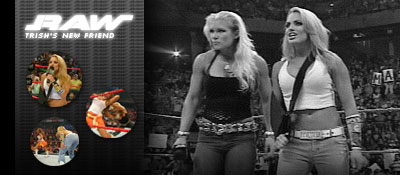 This week Trish came to the ring to settle some unfinished business with Mickie James. It wasn't about the Women's Championship or a match, it was simply about them.

As Mickie entered the ring, it looked as if Trish was ready to go. Mickie seized the opportunity to attack but Trish countered with a one-handed MaTrish. In frustration, Mickie turned her back to kick the ropes only to turn back around and find herself being pumbled by the same woman from last week.

Trish revealed this woman to be Beth, and her new friend. Apparently, Beth was also screwed by Mickie in the past and plans to not let Mickie get away with it.
« Prev story
Next story »