Trish Stratus gets the Key to the City of Niagara Falls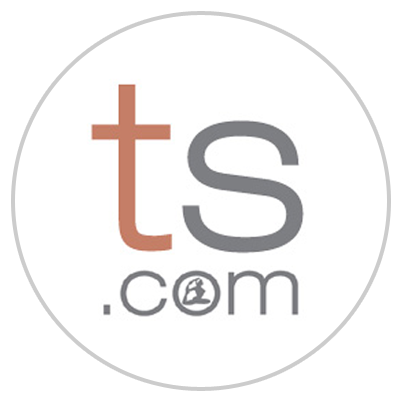 TrishStratus.com
May 17, 2023
---
---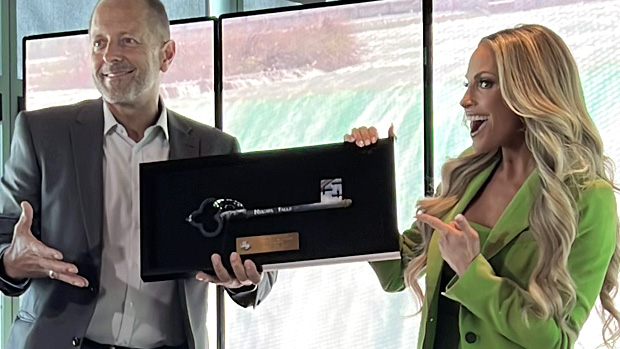 Woah, it's time to rock & roll
Woah, this time I'm in control
Woah, right now I own the streets
I got the keys to the city
That's cause I get down

Trish Stratus opened her speech by reciting the opening chorus from her WWE entrance music, which was apropos because she, in fact, got the key to the city.

On Monday at the foot of the Falls, Mayor Jim Diodati presented the WWE Hall of Famer, television personality, entrepreneur, and fitness icon with the Key to the City of Niagara Falls for her contributions to entertainment and pop culture throughout her career.

"We have so enjoyed supporting you & cheering you on over the years & are thankful you've shared your talents in television & entertainment in such a big way on the world stage," Diodati said.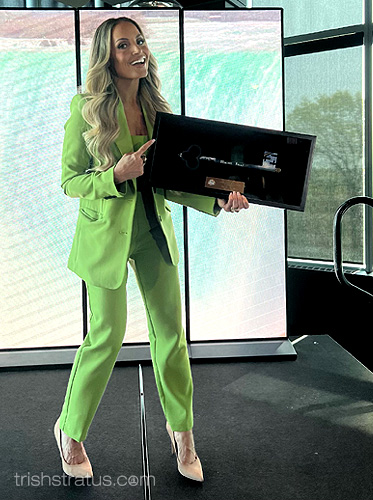 Dressed in a stylish lime green suit, Stratus spoke about her roots in Niagara Falls dating back to 2002 when she attended the grand opening of the 4000 sq. ft. retail store WWE opened called WWE Niagara Falls. Also, in the latest chapter of her career, Niagara Falls is home to Canada's Got Talent. She spoke about her many appearances around the city, including an upcoming autograph signing set for June 10 and 11 at Niagara Falls Comic Con.

Trish concluded her speech by recounting her annual family gathering in and around Niagara Falls. She invited everyone to her mother-in-law's house for Sunday night dinner at their Niagara Falls home.

Fun fact: Niagara Falls happens to be the shipping hub of her online retail store Stratusphere Shop, which allows it to provide unique collectible items to fans all over the world.

Stratus then thanked Mayor Jim and the City of Niagara Falls for the honor and asked if they'd mind if she continued to deliver stratusfaction to the streets of Niagara for another 20 years!

The ceremony wrapped with following the presentation of a unique one-of-a-kind designed Key to Stratus, who stayed to take photos and addressed the media.




« Prev story
Next story »