Exclusive: The making of Trish Stratus' Royal Rumble ring attire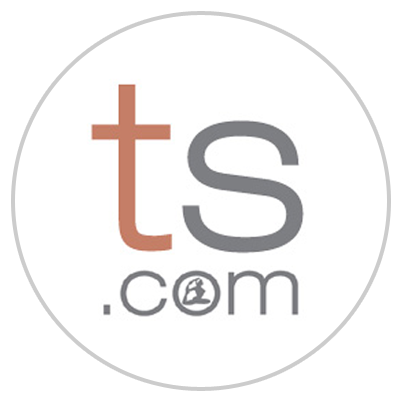 TrishStratus.com
March 5, 2018
---
---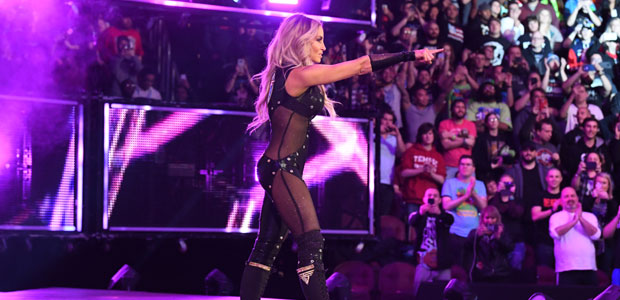 Photo: © 2018 WWE, Inc. All Rights Reserved.



Trish's return and performance in the first-ever women's Royal Rumble match wasn't the only thing that left fans buzzing. What she wore made quite the statement as well.

Madi Styles is the woman behind Trish's Royal Rumble gear. It is a name that may not be familiar with fans, but her work certainly is. She is responsible for creating many of Trish's iconic looks from over the years.

RELATED: Trish's 10 favorite outfits

Once Trish was contacted about her participation by WWE, she immediately reached out to Styles.

"I had two things in my mind once I confirmed I would be a part of the first-ever all women's Royal Rumble – 'can I go in the ring still and what am I going to wear??', says Trish. "Once my ring training was underway and I was sure I could pull this off, I contacted Madi. Considering the last time we spoke was when she created one of my outfits almost 10 years ago, we picked up right where we left off and we started a conversation about what to create."

The challenge was to create gear that was not only stylish but functional to wrestle in.

"We both knew we needed to create something that would be inspired with elements of the 'classic Trish' that everybody loved but also had to be a fresh new look for her," Styles told TrishStratus.com.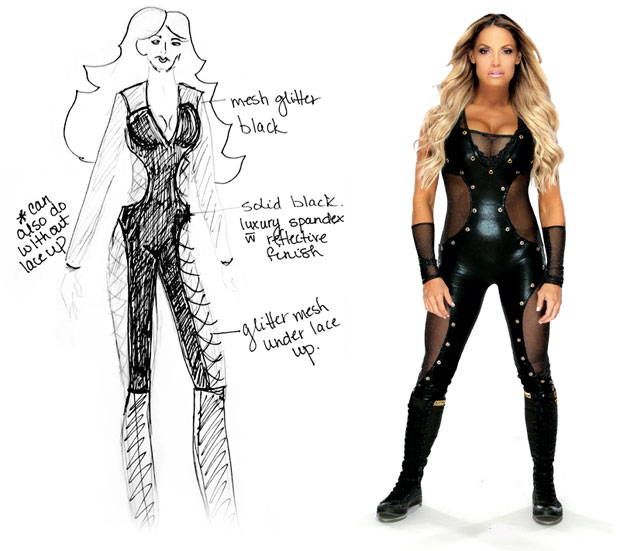 Illustration by Madi Styles / Photo by Rich Freeda
© 2018 WWE, Inc. All Rights Reserved.


Styles wanted to incorporated elements found in the current fashion trends when it came to the cuts and lines of the outfit.

"My inspiration was 'superhero meets red carpet'," she said. "I researched a lot of stage costumes from J-LO to Britney Spears, we knew we wanted glitter because let's be honest what girl doesn't love some glitter but at the same time I didn't want anything to over the top, I'm a fan of clean lines, for me less is more."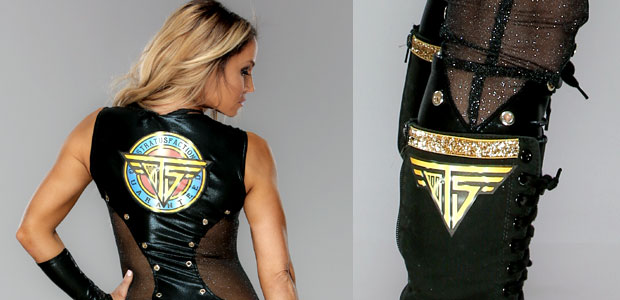 Photos by Rich Freeda
© 2018 WWE, Inc. All Rights Reserved.


After Trish revealed her new Wonder Stratus logo at Raw 25, they both knew it had to be incorporated into the outfit.

"The logo really defined the gear. Once we slacked that logo on the back all these other elements came together like the 'TS' on the boots for example."

The new logo came from Joe Malczan of Over by Design. His creation put a stratusfying spin on the iconic Wonder Woman logo. Trish's favorite superhero + her trademark '100% Stratusfaction Guaranteed' slogan made this a perfect match.

Now, the gear was ready to go for its big debut in the Royal Rumble — at #30!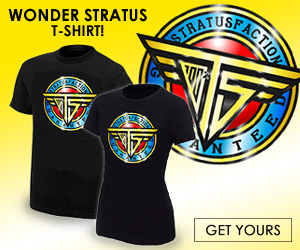 Trish's ring attire was featured outside of the ring as well.

– Topps released a limited edition card following the event which only had 186 prints made. Fortunately for 30 lucky fans, this card is available on Stratusphere Shop. Each card is signed and numbered #1-30 by Trish! (GET YOURS)

– Stratuspherians were also quick to bring the attire to life in the WWE 2K18 video game. (VIEW SCREENSHOT | WATCH VIDEO)

Can we all agree that the other place we'd like to see this iconic look come to life, is a future WWE action figure or WWE Barbie!

From all the outfits Styles has designed for Trish, she says this look will go down as a favorite.

"This ended up being one of my favorite looks because for me it represents the champion, the legendary Trish Stratus," Styles said. "I knew this could possibly be the last time Trish would be competing in a WWE ring and that we would collaborate, so I wanted it to be special for all of her fans."

Mission accomplished, Madi Styles.

Stay tuned for more with Madi Styles about her creations for Trish from over the years.

Check out exclusive photos below


Photos by: Rich Freeda
© 2018 WWE, Inc. All Rights Reserved.

« Prev story
Next story »