TrishStratus.com pays farewell to Joe Louis Arena
---
---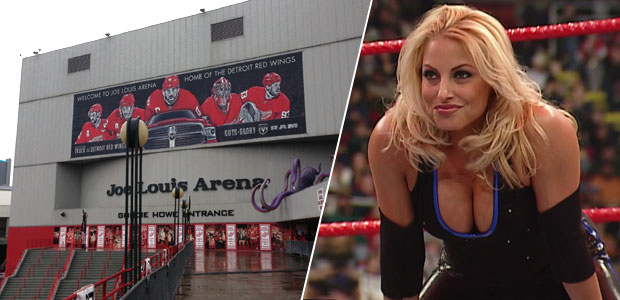 On March 13th, Monday Night Raw will emanate from inside the historic Joe Louis Arena for the final time.

The current home of the Detroit Red Wings will be closing its doors and demolished, as the team (along with the Detroit Pistons) heads to their new home Little Cesars Arena in the fall.

While Joe Louis Arena will be remembered for the countless moments on the ice, it also has hosted many WWE events dating back to the 90s. It has seen iconic moments, including The Undertaker's first WWE Championship victory, John Cena's PPV debut and Stone Cold's zamboni ride.

It was also the home of the 1994 U.S. Figure Skating Championships which became infamous for the attack on Nancy Kerrigan, setup by rival Tonya Harding.

Of course, tons of Stratusfaction has been delivered there as well, which Trish is sad to see go.

"I loved performing at The Joe!," Trish said. "Performing in a hockey arena, especially the home to one of the original was special. Losing this arena is sad to me, not only because I personally had so many memorable moments there, but also for the history the building itself held. I had the same feeling when Maple Leaf Gardens in Toronto was torn down."

We look back at the aforementioned moments that left Detroit stratusfied.


« Prev story
Next story »