New Year's Revolution Results: Trish Reigns Supreme as Champion for a Year
---
---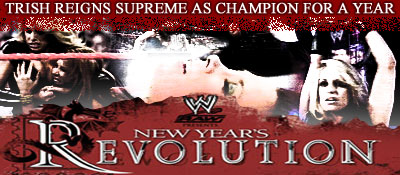 Joey Styles (during the broadcast) couldn't of said it better. This match had to be one of the most anticipated women's matches in a long time. From bell-to-bell there was a vibe of: 'what's gonna happen next?'

Throughout the match, we saw Mickie express several different emotions such as a grin as if she enjoyed punishing her idol; she also showed concern at certain times.

Some could argue that Mickie could've been crowned the new women's champion if she would've followed up after duplicating the Stratusfaction. This led to Trish being able to connect with a perfect Chick Kick to head for the victory to continue reigning champion for one year!



Stills from match »

Later in the broadcast, we see Trish & Lita have a quick stare down in the WWE.com Access room. As Lita walked off, Mickie walked in. Mickie tells Trish that the match awesome. Trish asked if she knew that she just lost but James was more worried about how their hot bodies touched each other in the ring. How much longer will Trish continue to allow Mickie to express her intimate side?
« Prev story
Next story »